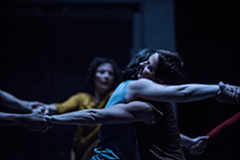 by Liz Roche Company
Time Over Distance Over Time was presented by Liz Roche Company at Dublin Dance Festival 2016. The piece was created with a cast and creative team living between Australia and Ireland and sought to capture experiences of emigration and the sense of fragmentation it causes as the full physicality of a loved one is often reduced to a voice down the phone or image on a screen.  
Live Collision have invited the company to present elements of the piece and the process involved in making a work of this nature as part of LIVE COLLISION INTERNATIONAL FESTIVAL // SPECIAL EDITION.
Liz Roche working with collaborating artists, videographer Luca Truffarelli and interactive visual designer Jared Donovan and dancers including Justine Cooper and Kevin Coquelard will present these re-imagined elements over three hours inviting the audience to experience and participate in the work as it is now; abstracted from its original version while maintaining its essence.
Time Over Distance Over Time – A co-production between Liz Roche Company and Queensland University of Technology, Brisbane with presenting partners Dublin Dance Festival and Live Collision. Supported by  the Arts Council Ireland and Dublin City Council. The piece also performed in Australia in June at FORM Dance Project's Dance Bites Festival in Sydney and at Brisbane Powerhouse with support from Culture Ireland's I Am Ireland Centenary Programme 2016.
Place: Project Arts Centre, Cube
Date: Sat 03 Dec 2016
Tickets: Free
Start time: 12 – 3pm tbc
(this is a durational performance installation, audiences are welcome to walk in and out of the work over the course of the afternoon)

More About Liz Roche Company
Based in Dublin, Liz Roche Company, formerly known as Rex Levitates, produces a diverse range of innovative dance activities yearly from theatre based or site specific performances and touring. Supported by the Arts Council and also by Culture Ireland, the company has performed at the Baryshnikov Arts Centre and Judson Memorial Church, New York with Movement Research, The South Bank Centre London, LEAP Festival Liverpool, DanceBase for the Edinburgh Fringe and The Irish Arts Festival Beijing. In previous years the company has also performed in Germany, France, Cyprus, China and the UK and most recently toured Time Over Distance Over Time to Brisbane Powerhouse and Dance Bites Festival Sydney, Australia.
The company was co founded in 1999 by sisters Liz Roche and Jenny Roche and is under the artistic direction of choreographer Liz Roche. An artistically ambitious and resourceful arts organization, we deliver our program with consistency, originality and an attention to detail and this has led to our steady expansion since 1999. In 2015 the company premiered Bastard Amber, a co-production between the Abbey Theatre and Dublin Dance Festival and co-commissioned by the Abbey Theatre, Dublin Dance Festival aand Kilkenny Arts Festival. It was a historic moment for dance in Ireland, the first time ever for an Irish choreographer to be commissioned to create a full length dance work for the main stage of Ireland's National Theatre.
Praise for LIZ ROCHE COMPANY
"Roche's choreography is delicately woven but it's threads possess an elusive tensile strength. Entrancing." Donal Hutera – The Times
"Liz Roche is an artist with a serious track record…" Judith Mackrell, The Guardian
"Liz Roche has been an integral part of Ireland's dance community for many years but her choreography has never settled into a groove.. she is a restless artist, continually pushing herself into new places.. her work communicates at a very private level." Ballet Tanz International
"Yeats may have established the Abbey, but tonight Roche has ownership of the stage… From the very first moments of the dance, she puts the body at the forefront….Roche's choreographic dexterity is at its height"  The Irish Times 
Photography, Film & Sound: Luca Truffarelli
Lighting: Aideen Malone
Music: Ray Harman
Interactive Visual Design: Jared Donovan
Set Consultancy: Paul O'Mahony
Set Build: Theatre Production Services