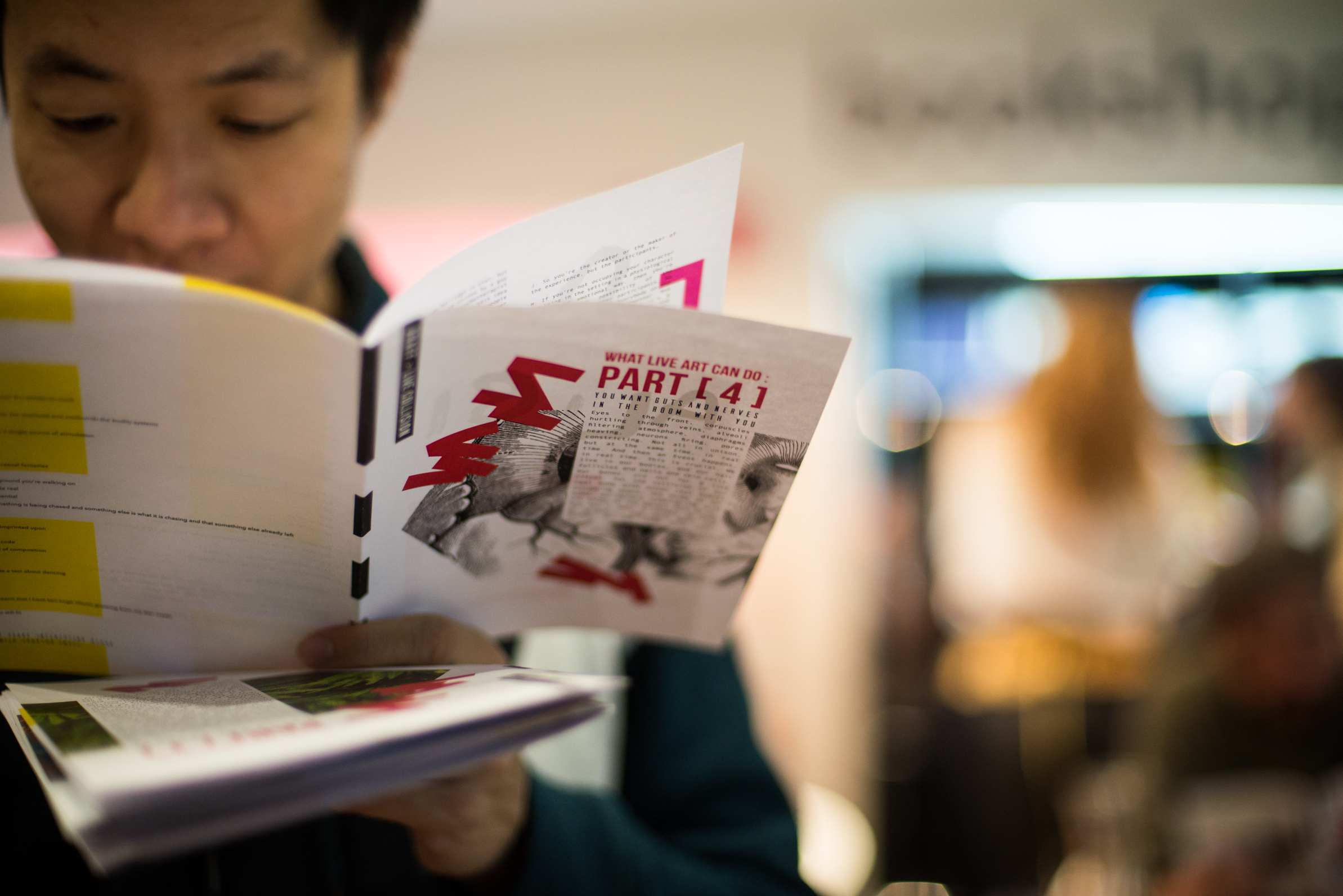 Listen live or download our daily lunchtime festival podcast with interviews across artists and subject matter interrogating seismic questions pertaining to the times in which we live and the moments we inhabit. It is going to get personal, in fact it already is…

Thursday 20th April @ 1pm
Lynnette Moran, Live Collision Festival Director, and Tilly Taylor sit down to talk all things Live Collision International Festival 2017: Part 1. From live performances to publication collections to residencies – here's an update on what the festival has to offer!

Saturday 22nd April @ 1pm

WHY LIVE ART, WHY NOW?
Chaired by Katrina Goldstone
Featuring Lynnette Moran, Megan Kennedy, Robyn McQuaid O'Dwyer
Recorded in front of a live audience, and streamed live online.
Listen to the podcast HERE.
WHY LIVE ART, WHY NOW? is an exploratory conversation looking at the role Live Art practice and 'festival' has to play in initiating and supporting a dialogue (performative or linguistic) around the social, cultural and political context and environment. What space does risk based practice provide that is particular and vital. 
Katrina is a writer, journalist and researcher, as well as communications manager at Create – the national development agency for collaborative arts. As a journalist she contributed features and reviews to numerous publications in Ireland and the UK and has also been a regular contributor to RTE arts programmes. Her column The Book that Changed My Life featured interviews with politicians, artists, writers and cultural commentators. She has also worked on a freelance and voluntary capacity advising migrant and refugee organisations, particularly on communications and strategic direction. From 2002-2004 she was Amnesty Ireland's first Anti- Racism Policy Officer.
Her essays include Leslie Daiken, Harry Kernoff and leftwing cultures in the 1930s, Lives on the Left: Studies in Radical Irish Leadership, eds. Emmet O'Connor and John Cunningham (Manchester University Press 2016); On Ethnic Legacy in Dublin's Future, edited by Lorcan Sirr (2011); Irish Studies, (Twilight Zones, May 2005 –an interview with poet Gerald Dawe on The Holocaust in literature}; '"Rewriting you": Researching and writing about ethnic minorities,' in Malcolm MacLachlan and Michael O'Connell (eds.) Cultivating Pluralism: Psychological, Social and Cultural Perspectives on a Changing Ireland (Dublin: Oaktree Press, 2000)). 

Date: Thurs 20 Apr – Sat 22 Apr
Time: 1.00pm
Price: Free