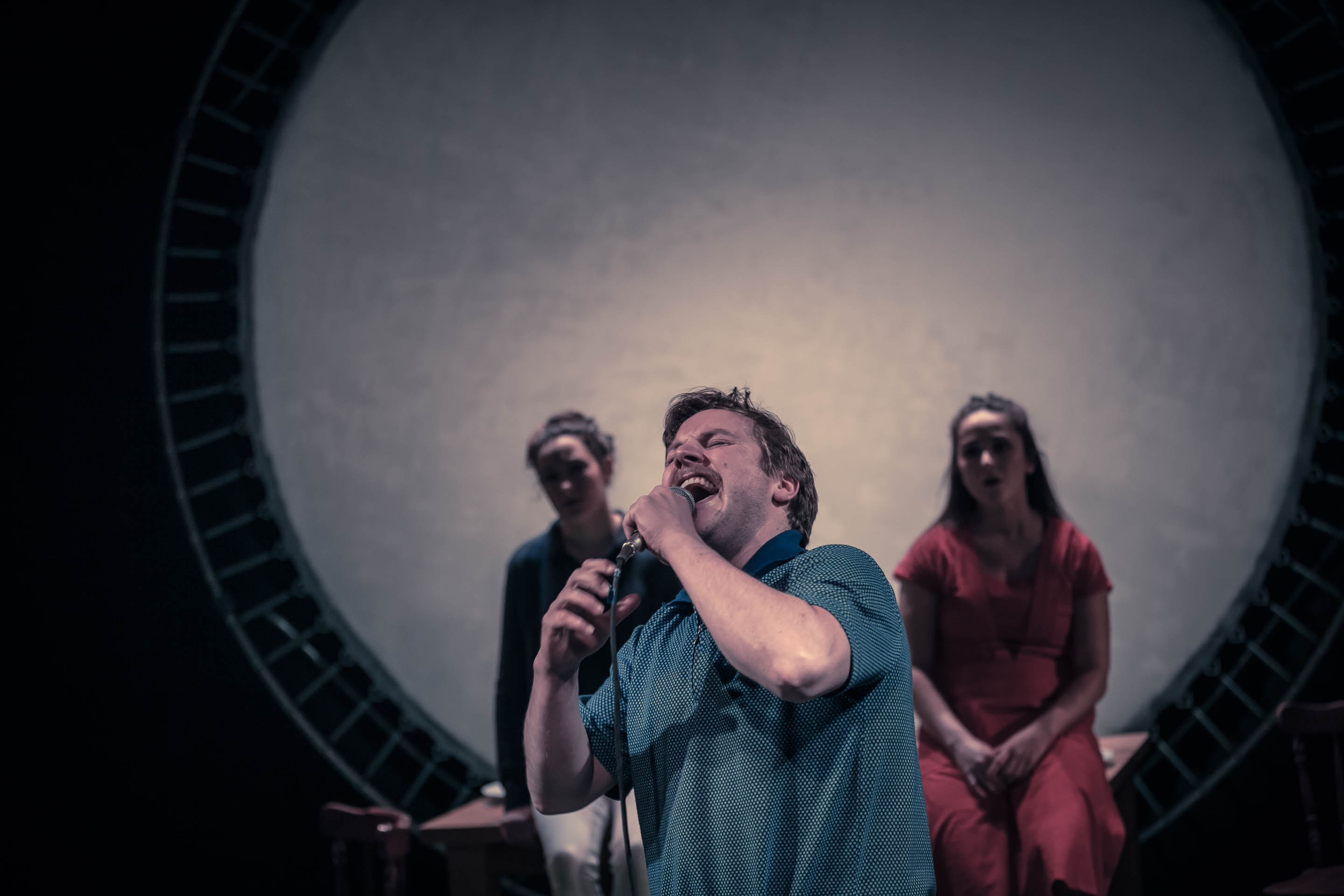 by Zoe Ni Riordain in collaboration with Maud Ni Riordain.
Recovery is a show about family and letting go told through song.
Using the frame of an album to tell a story, the performers are attempting to connect with you. From the banal to the poetic, the audience are invited into the world of this family, who are dealing with the past in the present tense.
Stop cooking that will you?
It's going to burn.
You're going to burn it
Jesus.
The album will not be recorded. You have to be here.
Place: Project Arts Centre, Cube
Date: Fri 02 Dec 2016
Time: 8.30pm (DOUBLE BILL #2 start time)
Tickets: €16/14
(this performance is part of DOUBLE BILL #2 with YAYAYA AYAYAY both performances are included in the ticket price)
Live Collision DOUBLE BILL Bundle Deal | 2 DOUBLE BILLS of your choice €26/23 | Call Box Office at Project Arts Centre to Book 01 8819613

PRAISE FOR RECOVERY
"Insane. Electrifying. Intense". -RECOVERY review, Pure Mzine
"…a painstaking work given startling execution" -Peter Crawley **** review of The Well Rested Terrorist (directed by Zoe Ni Riordain)
"Presenting music in a theatre with little dialogue is always going to be an abstract task, but there's something captivating about an album unfolding on stage." -Una Mullally review of The Well Rested Terrorist
More about Zoe Ni Riordain
Zoe is a theatre director and musician from Dublin. She wrote and directed Recovery: a live concept album which premiered at Project Arts Centre in April 2016. She was selected for MAKE artist residency at Tyrone Guthrie Centre March 2015. She co-wrote and directed The Well Rested Terrorist (Peacock Theatre, Tiger Dublin Fringe Festival 2014, nominated for Best Ensemble award). Other directing credits include The Lesson by Eugene Ionesco (Project Arts Centre, May '13). After The End by Dennis Kelly (BAC, London, '10), Exit The King by Ionesco (Samuel Beckett Theatre). As a cellist, Zoe is a member of Maud in Cahoots and performed live in Dusk Ahead by Junk Ensemble (Dublin Theatre Festival). She toured with the Brokentalkers production of Silver Stars by Sean Millar (New York, Paris, Auckland 2009/10). She was assistant director to Gavin Quinn of Pan Pan Theatre Company from 2013-15.
Cast
Direction: Zoe Ni Riordain
Choreography: Aoife McAtamney
Sound Design: Jack Cawley
Set Design: Ger Clancy
Lighting Design: Ilo Tarrant
Voice Director: Robbie Blake
Producer Hugh Farrell
Live Sound Engineering: Eoin Murphy
Developed in part at MAKE artist residency at Tyrone Guthrie Centre.
Production support from Rough Magic