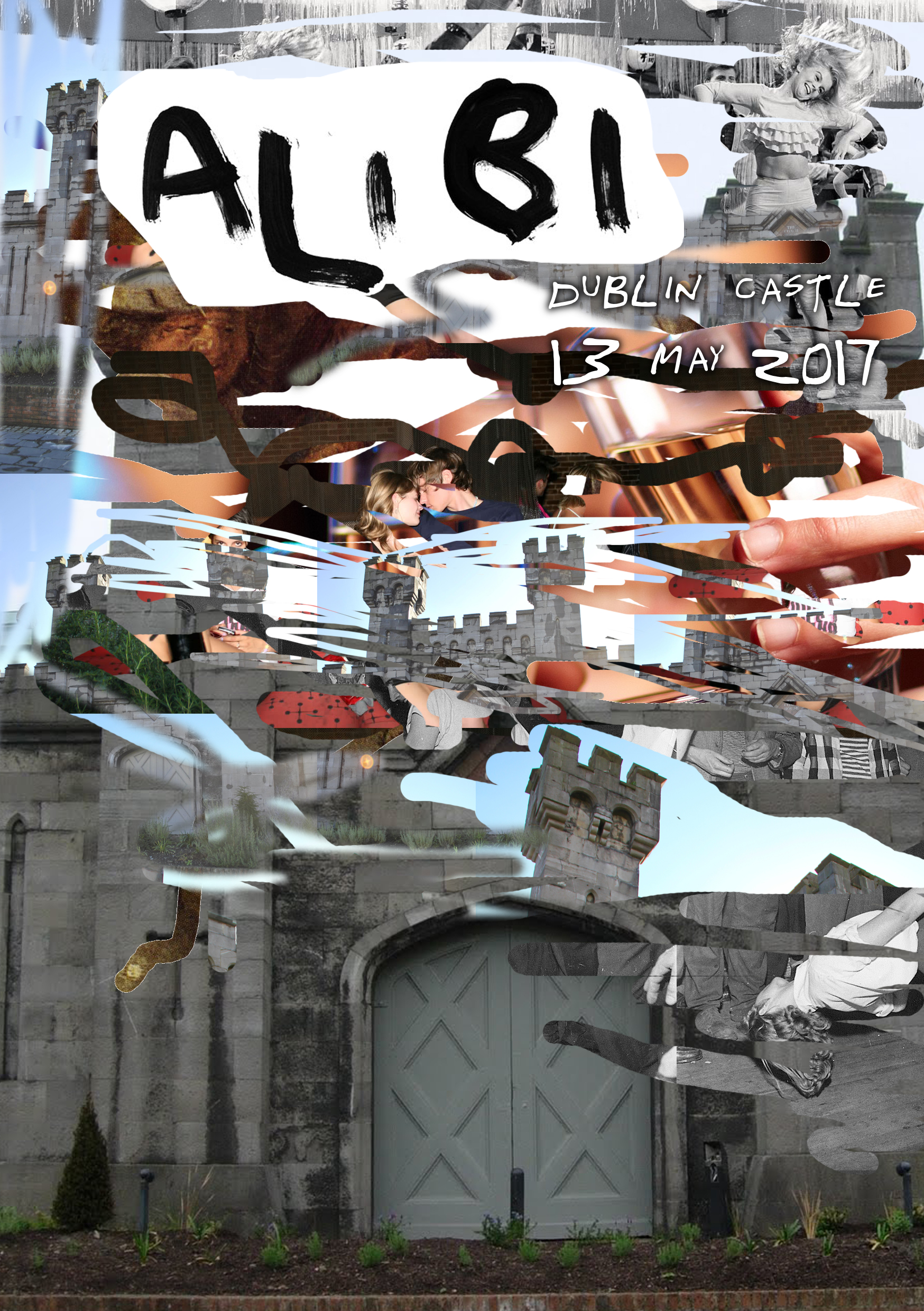 BY MARK DURKAN
ALIBI is back…
Artist Mark Durkan brings together an exciting new team for the latest ALIBI in Dublin Castle on May 13th – including artists Eilis McDonald, Aine McBride and Cillian Finnerty, artist and musician Michelle Doyle, theatremaker Jamie Harper and archaeologist and game-designer Ivan Pawle. ALIBI is an invitation to engage people and place through temporary fictional identities. Participants are invited to collaboratively construct characters and roleplay these; interacting with each other in real-time to unravel a newly emerging fictional narrative. ALIBI is a multidisciplinary platform for delivering 360° reality fiction experiences… but it's also a hidden, private party where you can be anyone you want.
Combining elements of nordic live action roleplay and longform improv as a form of collaborative social-publishing, the experience is 'imprinted' on to the participants through the combination of the 360° context and their inter-character engagement. ALIBI allows people to explore the underlying social contract of 'going out', by sidestepping themselves and experiencing it through the prism of another, fictional identity. Your character may be overjoyed at seeing old friends, but wary of fighting with an ex-boyfriend. Your character might be feeling lonely, only to hook up with a random stranger. Or this might be your character's first night away from the children and you are determined to wake up with regrets tomorrow. Armed with an alibi and set in the stunning location of Dublin Castle's Coach House, participants are invited to delve into the fiction and find moments that are meaningful and memorable. 
You do not need to prepare anything to participate in ALIBI, just bring yourself! This event will be private and will not be accessible to the outside public. You may wish to style yourself differently as it may help you to transition into character, but this is optional. It is expected that participants will consume alcohol during this experience, but it is not essential and will in no way diminish your experience should you choose not to. Some food will be provided and an alcoholic beverage will be provided as part of your participation. 
Place: Dublin Castle
Date: Sat 13 May
Time: 2pm (strict start time) finish at 8pm
Tickets: €16/14