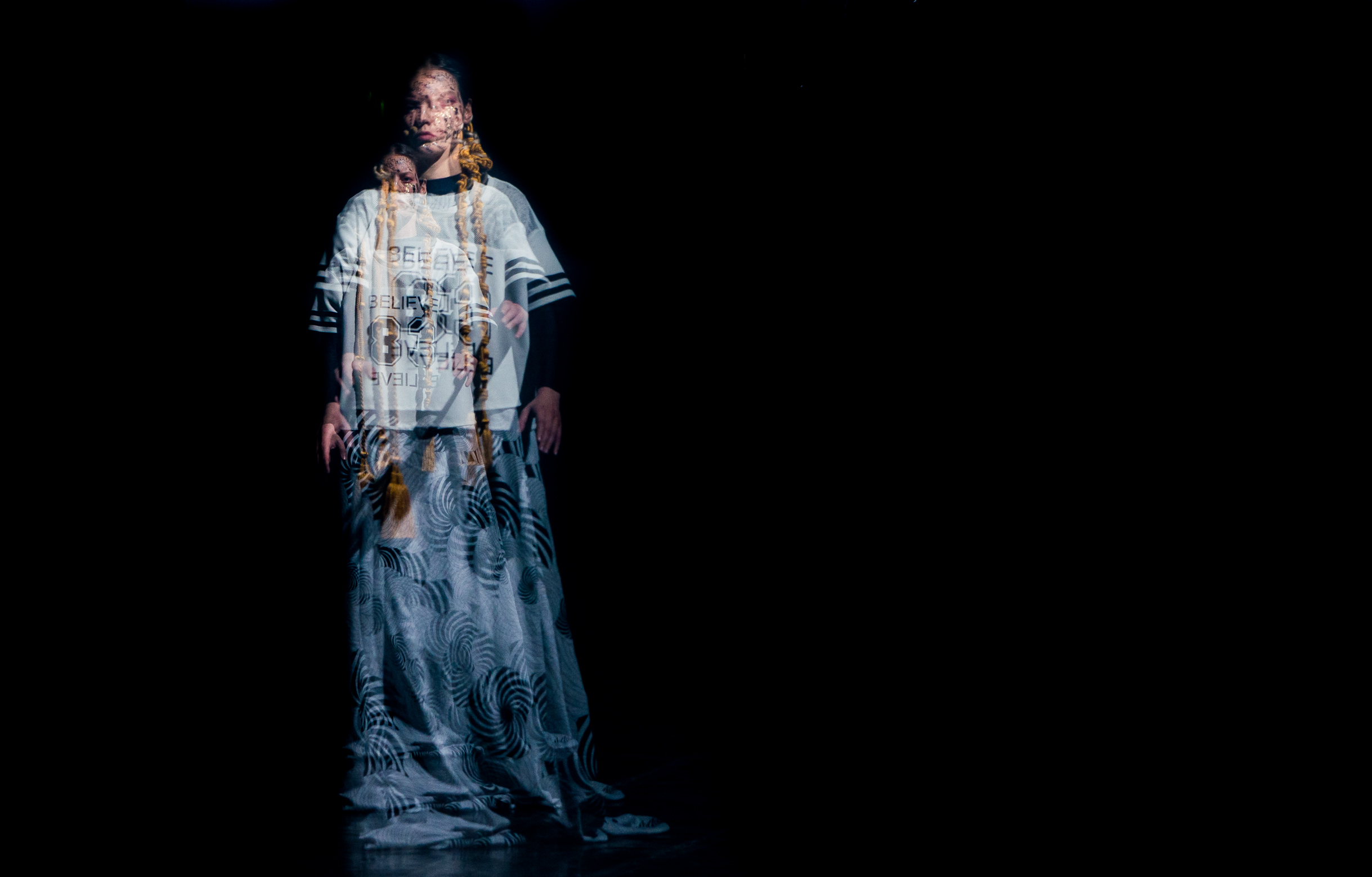 BY ULTIMATE DANCER
AND ROBBIE THOMSON
Ultimate Dancer returns to Live Collision with YAYAYA AYAYAY, a new performance presented as part of a work in progress at Live Collision International Festival // SPECIAL EDITION 2016.
Ultra-terrestrial temporary dance proclaiming the historic chant: tnahc cirotsih eht gnimialcorp ecnad yraropmet lairtserret-artlU
A vision of a giant or an alien with a message; Ultimate Dancer and Robbie Thomson bring discoveries from the dark places. Expect a neo-ancient display of natural-high inducing lights, sounds and trippy ritual dances.
'Ultimate Dancer moves between humour and seriousness, between concept and exploration. It's drenched in atmosphere, full of power, and glides between voice and body, sound and dissonance.' (Exeunt Magazine on Holy Smoke)
YAYAYA AYAYAY is funded by Creative Scotland and 'AMPS' – a commission from Jerwood Charitable Foundation / Nick Anderson. Further support from Tramway, The Work Room, Gessnerallee Zurich, Dance Base Edinburgh, Movement Research New York and Live Collision International Festival // SPECIAL EDITION 2016
Amplifier – Nick Anderson

Thank you: Sunniva Saetereng, Simon Cullen, Anita Clark, Lulu Johnston, Lorna Duguid, Divina Kniest, The Glue Factory, Anna Hodgart, National Theatre of Scotland, Jo Walmsley, Fritz Welch and Sian Baxter.

PLEASE NOTE – Performance contains use of black out and intermittent flashing lights
Place: Project Arts Centre, Cube
Date: Fri 21 Apr
Time: 8pm
Tickets: €16 / €14 concession
Why not stay after the show and join us for our Live Art Screenings? Admission is free but booking advised. Find out more here.

MORE ABOUT ULTIMATE DANCER
Louise Ahl is a Glasgow-based artist originally from Sweden, making experimental and choreographic performance work. Louise creates both solo and collaborative multi-art-form pieces. Her inspirations are rooted in shamanism, healing practices and existentialism. In 2010 Louise began making work with her performance persona Ultimate Dancer, who was born as a half-joke/half-critical/wholly-serious attempt to explode and lovingly re-manifest the art form of dance.
Her work is dedicated to pushing at the edges of choreography, performance and visual art, working away from narrative based performances, instead making ambitious and detailed thematic concepts for the work to exist in. The voice, light, sonics and text are all tools of contemporary choreography channeled through a responsive and collaborative practice.
Louise studied theatre in Sweden, Choreography in Berlin and received a First Class BA Choreography from Dartington College of Arts in 2010. Her work has been shown across the UK, Germany, France, Australia and the USA and has been supported through Creative Scotland, Arts Council England and the Swedish Arts Grants Committee.
Her work has been commissioned by Dance4 ('Intercourse'), Edinburgh Art Festival ('Edelweiss, Edelweiss…') and Tramway ('Holy Smoke'). Louise was a New Associated Artist at Yorkshire Dance in 2012 and a Tramway Associated Artist in 2015/16.
www.louiseahl.com / @Ultimate_Dancer / www.facebook.com/UltimateDancer