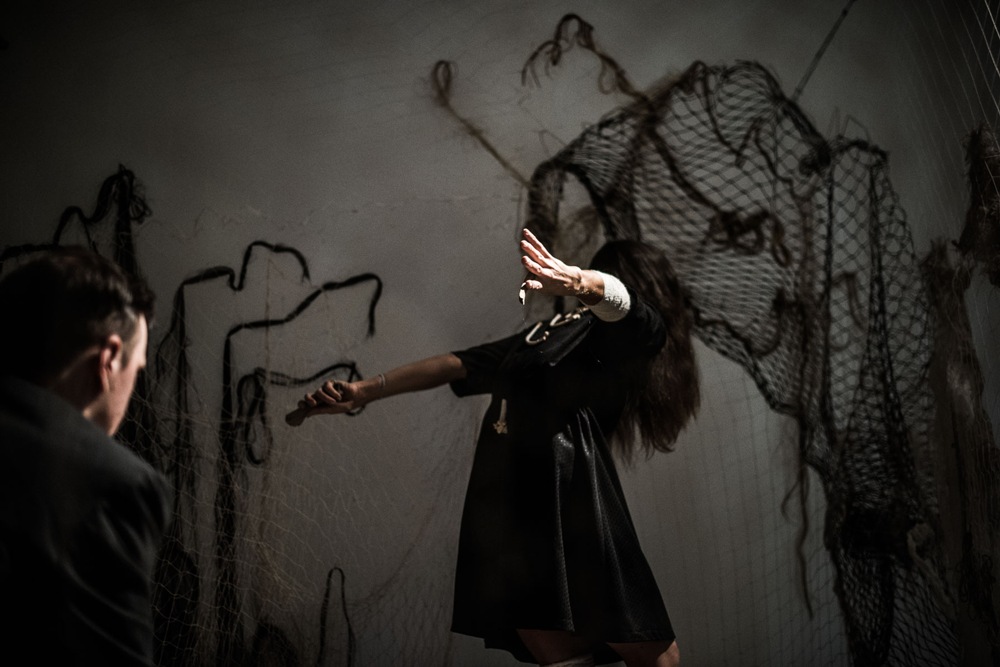 BY MEGAN KENNEDY
Tasting Blue is a durational performance installation exploring death and the voyeur. As the spectator looks through a series of holes framed in a web of fishing nets and human hair, the performers attempt to reflect the voyeur through the eye of the body, amidst hundreds of animal bones. Taking a page from the celebratory nature of death in Day of the Dead rituals and certain Eastern cultures, Tasting Blue investigates the primordial, carnal, joyful aspects of death.
Place: Project Arts Centre, Cube
Date: Wed 19 Apr
Time: 3pm to 7pm (this is a durational work over this time frame, audiences may come and go)
Tickets: Free
CREDITS
Creation, Design, Performance: Megan Kennedy
Collaboration, Composition, Performance: Raymond Scannell
Visual maker and Costume design: Maria Tapper
Assistant maker: Deirdre Hart
Photography and Videography: Luca Truffarelli
Tasting Blue originally exhibited as part of The Wild at Project Gallery in November 2016, supported by an Arts Council Dance Bursary Award and Dance Ireland Residency.
Thanks: Fergus Byrne; Deborah Madden, JC Collins, Cian O'Brien, Orla Moloney and all at Project Arts Centre; Lynnette Moran and all at Live Collision Festival; Tessa Giblin
MORE ABOUT MEGAN KENNEDY
Megan Kennedy is a choreographer and artist whose interest lies in creating work in unconventional spaces, working within non-specific genres and with a variety of collaborators. Megan trained at Alvin Ailey Dance Center in New York City and received a B.A. Honours from Queen Margaret University in Edinburgh. Choreography for live performance includes Villette (West Yorkshire Playhouse), Town is Dead (The Abbey Theatre), Tchaikovsky's Queen of Spades Opera (Edinburgh Festival Theatre), Bram Stoker Festival (IRL), Marble & Bread (Dance Limerick), eX Choral Ensemble (IRL). Performance and choreography for film includes The Wake (Invisible Thread), Óiche Nollaig na mBan (RTÉ Television), Blind Runner (Junk Ensemble/Dance Ireland), Wonder House (Dublin Film Festival), Her Mother's Daughters (Winner Best Actress Capalbio Festival Italy/Dance on Camera NYC/RTÉ Dance on the Box). Megan is Co-Artistic Director of multi-award winning Junk Ensemble. She has performed with Retina Dance Company (UK), Tanz Lange (Germany), Firefly Productions (Belgium), Storytelling Unplugged (Romania), Blast Theory (UK) and in Ireland with Brokentalkers (The Blue Boy, On This One Night), CoisCéim Dance Theatre (Faun, As You Are), The Abbey Theatre (Romeo & Juliet), Mouth on Fire (Everlasting Voices), Bedrock Productions (Pale Angel) and productions for The Ark and The Pavilion. Megan was Dance Artist-in-Residence in Limerick in 2014/15. She is a Fellow of Salzburg Global Seminar and the chair of Dance Travels.
MORE ABOUT RAYMOND SCANNELL
Raymond Scannell is an award winning, multi-disciplined Arts practitioner. Working as a writer, performer and musician, his own work brings together aspects of these practices. Recent sound/composition designs include: original composition for Silent Film L'Appel Du Sang (Cork French Film Festival), Death at Intervals (Kellie Hughes & Galway International Arts Festival), Town is Dead (Abbey Theatre, nominated Best Sound Design ITTA 2017), Walking Pale (Junk Ensemble/Dublin Dance Festival/GPO Witness History). Ray wrote the music for Alice in Funderland (thisispopbaby Theatre Co./Abbey Theatre), nominated for Best Production at the Irish Times Theatre Awards 2012. As writer/performer his work includes Deep, (winner of Best Male Performer and Spirit of the Fringe nomination, Dublin Fringe Festival 2013), and Mimic (a play at a Piano) winner of Best Male Performer (Dublin Fringe Festival 2008).