On Sunday 29th, Felicity will present Pseudaria, a new play developed in collaboration with Live Collision, at Fringe Lab in Dublin city centre. Their goal is to develop the work as a one-of-a-kind conversation with their audience. Live Collision host Felicity in a digital residency as they develop Pseudaria, tracking their progress here on the Live Collision blog.
DIGITAL RESIDENCY || FELICITY, APRIL 2018.
DISPATCH I: 13.04 || It is idle to blame a net for having holes.
MAGGIE NELSON, The Argonauts.
What do we mean by Digital Residency?
COLM: Digital residency is a formalization of a relationship which artists already have to their work. We record, catalogue and show work (and work-in-progress) online every day. For display purposes, archival purposes, social media marketing, whatever. The useful thing about the word "residency" is that it suggests an online space where the work can live or where the artists can find a home. As digital natives, our default is passive: passive search, mindless scroll, idle surf. This kind of reception has real implications for creatives. If the reception of the work  on our social media pages is no richer than the reception of the digital advertising its platform is contingent upon, are we not simply, content developers, "marketeers" and/or would-be influencers?
While I don't think this is necessarily a bad thing (I daylight as a marketeer), I do think that there is a delicate digital economy of art and that it is now impossible not to engage with it. That much is obvious.
I like the potential that a "residency" has to reframe the reception of digital work as an active engagement by the audience, and particularly as new way of engaging with analog processes and outcomes like performance.
Can a "Digital Residency" present opportunities for active participation in art and art-making? Let's see. The blog that follows represents the process of designing, rehearsing and presenting Pseudaria at Live Collision 2018. Hopefully it is engaging and of value, and not merely "rich content." We hope it will deepen and inform your experience of the piece, and of us.
We'll probably still resort to a little like-farming.
Dislcaimer: This portfolio is a live document updated daily.
—
DISPATCH II: 16.04.2018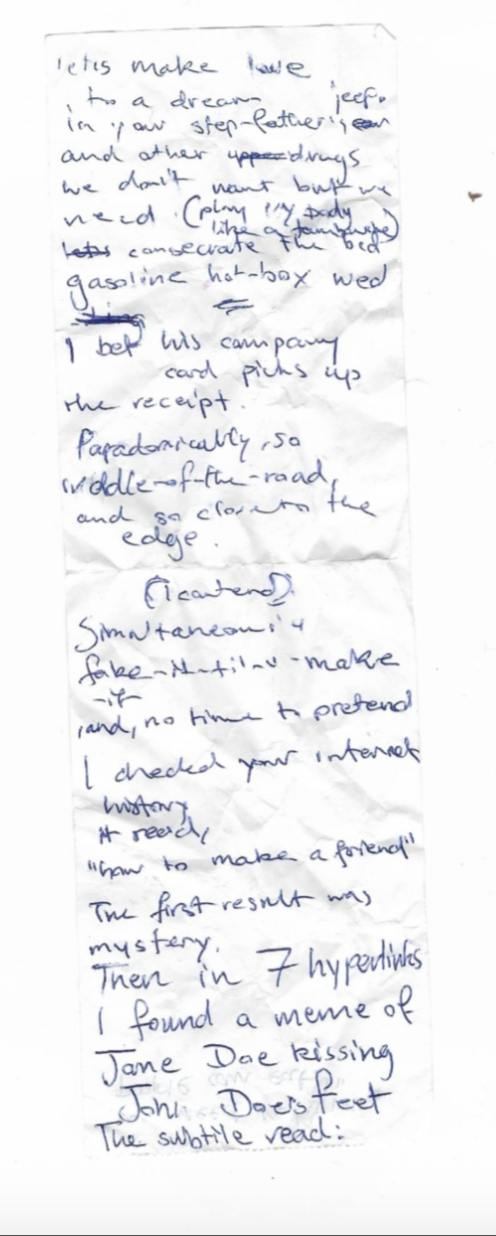 What is this? 
This is a song for Pseudaria written on the back of a receipt.
—
Why?
LENNY: The prompts for writing the piece came mostly from disparate confessional and experimental pieces of text that would be passed between Colm and I over email. It very much had the feel of collage or a kind of objets trouvé process from the get-go: that is to say, it was a very fragmented/open process, largely involving Colm sending me text, me tweaking it and setting it to music, Colm shaping the accumulated fragments/ideas into narrative.
COLM: I wrote the lyrics for Gas Chamber when I worked in ITSA, the bagel place at the Museum of Modern Art. Very glam. I sent it to LENNY and he came back to me with a melody and a chord progression. It stuck. Before we knew we were writing "a play-play," we knew very little about Pseudaria, except that eugh – except that it was basically a kooky musical (!) – this song is probably the best example of that vibe. It since informed a lot of the second act of the play-play. My favourite line is LENNY's addition, "I was gonna take a big fat photograph of it all."
—
We thought it would be appropriate the begin this digital process portfolio with an example of analog media. 
—
LYRICS THAT DIDN'T MAKE IT IN.
"We need religion people can eat."
"Are you done digging your grave yet?"
—
DISPATCH III: 17.04.2018 || a video response by Hugo Lau
Video artist Hugo Lau responds to the text from New York.
—
DISPATCH IV: 17.04.2018 || a visual response by Cara Donaghey
As part of Live Collision 2018, Felicity collaborate with visual artist Cara Donaghy, who will create and present a visual response to the text as part of its presentation on Sunday 29th April.
A recording of their initial conversation can be found below:
The following images represent Cara's initial response to the play-in-progress, particularly to the sonic que,
THE SOUND of static.

DISPATCH V: 21.04.2018 || a musical response by Séamus Ryan
SEAMUS RYAN is a collaborator with the company and lead composer on Pseudaria at Live Collision 2018. SEAMUS and COLM consider the lyrics a prompt to composition, by no means the last word on the content of final songs. Their song-writing process is iterative, and usually involves  puzzling out a song by sending melody's back and forth, earmarking influences, and exchanging .mp3s late in the night.
BELOW you'll find a collaborative Spotify playlist for the piece, which you are welcome to add to.
BELOW that, you'll find a demo of the song Hot Coffee, very much in a first draft.
Spotify Playlist: 
Hot Coffee (Demo #1 2018), Ryan and Summers
Downloading: download this by all means, just make sure to do something awesome with it, and to let us know if you do!
DISPATCH VI: 22.04.2018 || design boards for the show
BIBLIOGRAPHY
Beatrice Von Bismarck, Gestures of Exhibiting (Afterall Journal of Contemporary Art, Context and Enquiry, Autumn/Winter 2004)
Maggie Nelson, The Argonauts.
0
0
Lynnette Moran
Lynnette Moran
2018-04-16 17:19:23
2018-04-22 14:27:33